As a result of this blog post, you will gain a better understanding of how Oracle Eloqua works as well as what some of its advantages and disadvantages are.
Having worked on Eloqua for over 4 years now, I hope my experience with the tool will help you better understand it. Moreover, I am an Oracle Eloqua CX Marketing 2020 Certified Implementation Specialist.
I would like to clarify that Oracle Eloqua is a Marketing Automation tool and not a CRM. Often, people claim Oracle Eloqua is a CRM tool, but it is not.
Around 25+ of my colleagues are responsible for creating and writing emails directly on Eloqua, which I think is a very good point. Our team is responsible for segmenting, grouping, and sending B2B/B2C emails to the right people. Email communication is handled entirely through Eloqua, including transactional and marketing emails. Day-to-day, we do a lot of stuff using Eloqua, including a lot of automation and reporting. In the upcoming blog post, I will describe it in more detail. Some features on Eloqua are extra cost features, so we do not use them.
Eloqua uses the email address as its Unique Identifier. Contacts are uniquely identified based on their email addresses.
We use Oracle Eloqua for:
Email Campaign

Simple Email Campaign
Personalized Email Campaign
A/B Test Email Campaign

Form Submissions
Landing Pages
Reporting / Eloqua Insights
Personalization
Every month, we send more than 20 email campaigns. The process of creating and writing an email is very simple using a drag-and-drop interface. We share Templates for different types of emails with the teams so they can duplicate and start writing them by themselves. The Eloqua layout interface needs a good designer to create email templates for the best possible outcome.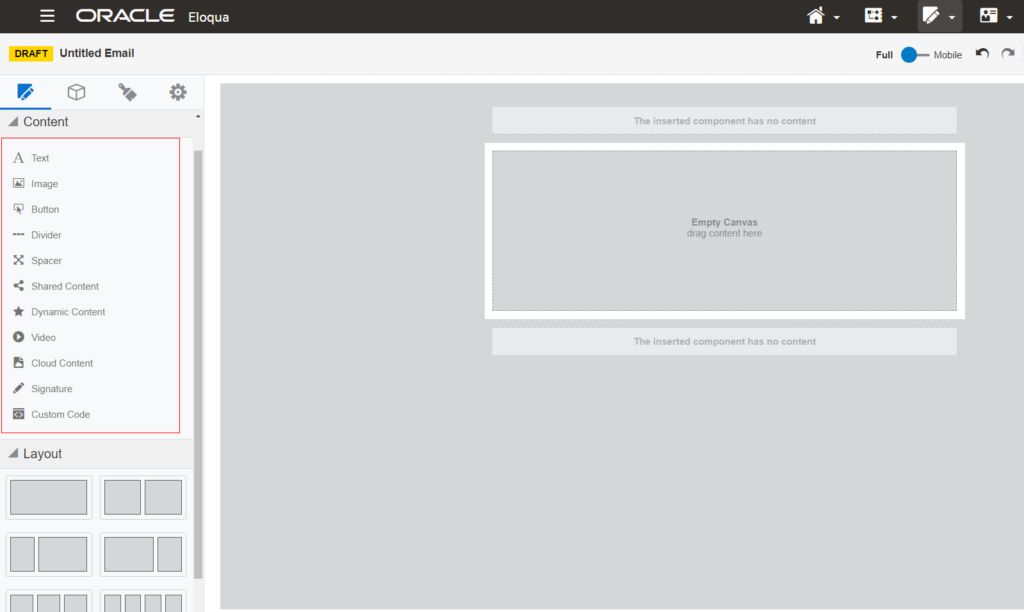 In order to send an email, you need a few things ready: Header, Footer, Segment (Data), Email Group and Subscribe/Unsubscribe process in place. Without all these configurations you cannot proceed with Email Campaigns.
Email Campaign can be of two different types: A simple Email Campaign or a Multi-Step Campaign. Simple Email Campaign gives you an option for A/B Test.

Note: Multi-step campaign does not give you an option for A/B Test.
It is easy to understand the simple Email Campaign Interface. Select an Email, the segment, and dispatch or schedule for dispatch. For A/B Testing – you can select A and B both the emails and select the winning criteria – Email Open/CTR, run the test for a few hours and select an option to send the winning version to the rest of the audience.
You can create more complex email campaigns with the multi-step campaign by creating a user journey based on interactions and then sending emails accordingly. I'll write more about this in the next blog post.
The proper folder structure was one of the things I introduced at the beginning. There are more than 25 people working on Eloqua, and finding emails can sometimes be a challenge. You'll benefit greatly in the future if you create a proper structure right at the beginning. Be sure to follow the proper folder structure for Campaigns, Emails, Segments, Forms, Footer, Header, Custom Data Object, Landing Pages, and Insights.
Form:
If you are working with Eloqua, you should pay special attention to the form. A key entry point for getting users on board with Eloqua can be this feature. It is a very key component of Eloqua. If you have Eloqua and you're not making full use of Eloquaforms, then you should look for an opportunity to improve. In our case, the submission of Forms is one of the first steps in onboarding new users. For now, just understand that we have an option on Form submissions that says what to do next when a newly submitted form entry is coming to Eloqua where we can give multiple actions like Subscribe a user to a specific email group, add the details to the contact database or redirect a user to a specific URL and so on. There are many action points available in the Form submissions which I'll describe in the next blog post.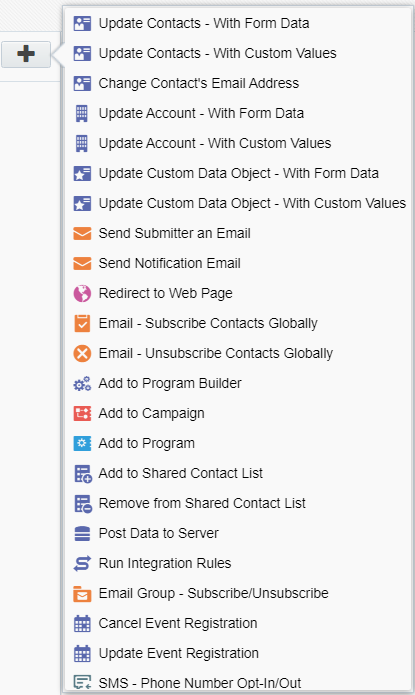 Landing Pages:
Landing pages are a very useful feature for marketers. It allows you to create pages quickly and generate more leads without investing in development. Since we use Sitecore CMS to create pages easily and have an integration for form submissions, we don't use Landing Pages much. We use landing pages for the Subscribe/Unsubscribe process. The default Eloqua unsubscribe confirmation page doesn't allow us to get the reason for unsubscribing so to achieve that functionality we are using the Landing Pages.
Reporting / Oracle Business Intelligence
Eloqua store the user's activity for a year but with insights you can get much more. We use Insight for three purposes: Email Campaign Analysis, Form Submission Reports, and Data Cleaning. It is good to know that these reports can be automated according to your business needs. You can schedule reports Daily, Weekly/Monthly, or based on certain conditions, like showing me records that have been received in the last 24 hours.
Again the more you use Oracle BI the more complex it gets to maintain your reports. So you need to follow the proper folder structure and save it in an organized manner.
Personalization | Web-data lookup
We use Web-data lookup to personalize content using another Oracle tool called Maxymiser. For all known users, we display unique and different content. Based on the user data you have on Eloqua – you can personalize content accordingly. In order to do so, you will need someone with technical knowledge to assist with the setup and use case.
Challenges:
There are a few sections that do not have a good user interface. For example, The user Interface for Custom Data Objects or Programs is very old. It feels like we should move away to some better platforms.
Page Tagging is very slow and it will take a lot of time to configure page tagging for each individual page – I hate that the most. You can do a lot more with page tagging and personalize emails based on user visits, but the interface is so bad that you will not use it.
Your fees increase in direct proportion to the number of users. Well, I don't want to get into Eloqua's finance here, but when our database size increased to more than a million, we encountered difficulties. A few immensely useful features are also an additional amount.
Email design difficulties: The Outlook client regularly gives us problems. The web browser functions flawlessly, but the outlook client causes numerous little problems. The desktop/mobile layout will function according to its own set of guidelines. There are no available two or three-column choices for mobile. The desktop layout is changed to a single column for mobile.
Attachment is one of the main issues we have with the Form and Email. A link to an attachment may be added, but an attachment itself cannot be included in the form or email.
Types of form fields are extremely scarce. The landing page form does not allow for the direct usage of a Phone Number or a Date calendar field.
It is not possible to create a reusable content block for a Shared/Dynamic Component.
Conclusion:
Each type of email marketing software will have advantages and disadvantages. The platform you choose will depend on your needs. In my own experience, I've heard a lot of people complain that Eloqua is a terrible tool because it's hard to integrate and doesn't allow us to do a few things, but after using it for a considerable amount of time, I'd say it's one of the best tools. Of course, there are some missing features but include a lot of useful options and capabilities that make living simply.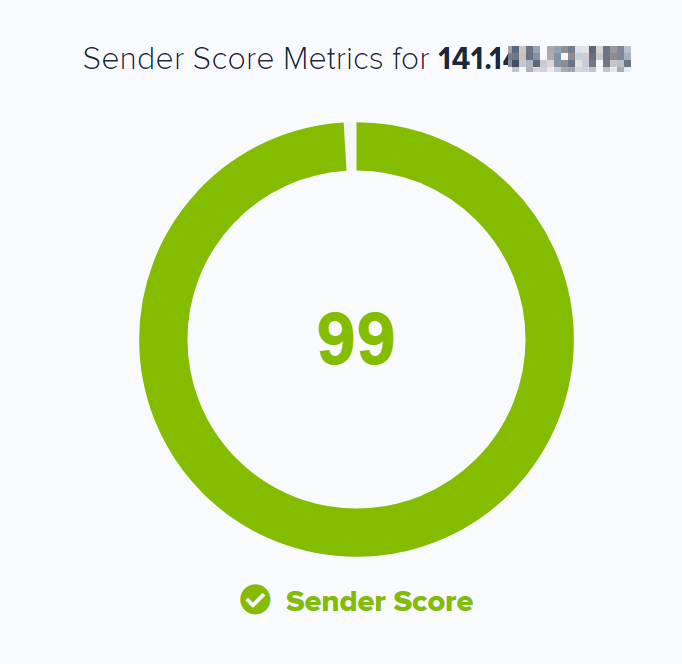 Eloqua assigns an IP address to an account. You can check your Eloqua IP Sender Score online at: https://senderscore.org/
Our sender score has been consistently at 99% for the last 30 days.
I would like to thank Zafer Arkel for the support he has given me for Eloqua.
You can contact me if you have any questions about Oracle Eloqua.