The main reason you go with Eloqua is Email Campaigns which is obvious. A campaign allows you to give your contacts an engaging, personalized, and unique experience. In this post, we'll see different types of Email Campaigns and what kinds of scenarios you can play around with on Eloqua.
You need to keep the following things in place before sending an email:
Email:
Email is associated with the following:


Email Preference Center: To allow the user to provide more preferences to get their interest, country, and so on.
Newsletter Unsubscribe: This is a mandate by default for all newsletters.
Email Group: To define to which group the user will be unsubscribed. With email groups, you can classify emails for different audiences and allow subscribers and unsubscribers within those specific newsletters, or you can use it for different brands. This has to be used very carefully. If I unsubscribe from one brand I should still receive an email from other brands from the same Eloqua instance. We have a proper strategy in place defining when and in what case we need to define an email group. If you are going to start working on Eloqua then you need to define the ground rules of creating an Email Group in the beginning. Email groups can also be helpful to create reports.
Segment – To define to which audience this email should reach. Segmentation is a very important topic and needs a detailed understanding of how you can make use of your data to properly define the segments. Our email campaign requirements dictate the types of segments we create for different audiences. In order to send an email campaign, it is necessary to determine what the requirements are ahead of time. For example, we create a specific segment to send a monthly newsletter to a certain audience, the different segments for sending an email based on user interest, and so on. Recommend you to go through the Eloqua guide for segmentation and if you have any queries you can reach out to me.
If you are already familiar with segmentation on Mailchimp then you can easily understand this on Eloqua but one thing to keep in mind here is that Mailchimp allows you to store the same email address in multiple audiences while on Eloqua it doesn't work that way. In Eloqua, an Email Address is a unique identifier for each contact. And you create segments based on your user data and to which brand (Email Group) they are subscribed.
Simple Email Campaign
As described in my previous blog post, this is one of the easiest methods for sending bulk emails. It allows you to send a Simple Email Campaign or A/B Test Email campaign. Select the segment, select an email(s), and schedule for dispatch or just dispatch.
If an email audience is bigger then we have an option to split an email dispatch process into batches which we use quite often. We can also enable an option to send emails during certain days and hours.
Eloqua also has an Advanced Intelligence option called "Send Time Optimization" to send an email to each user based on the timings at which they are most likely to open an email. The time is decided based on their historical information. The Advanced Intelligence option is available at an additional cost.
As soon as an email is sent, the campaign dashboard will display something like this. A simple email campaign provides a simple visual representation of the campaign dashboard.
Multi-step campaign
Multi-step campaigns allow us to create highly customized email campaigns. Whenever you have a scenario-based email you'll have to use Multi-Step Email Campaigns. A user can enter into a Multi-Step campaign via many options.
One is you provide the defined segment. Other options are Form Submission, Facebook Lead Ads Feeder, LinkedIn Lead Gen Forms, and Infinity Feeder App. In case you have any Lead-Gen Forms on Facebook/LinkedIn, you can definitely use Eloqua to send an email automatically once a Lead submits the form and the data is captured.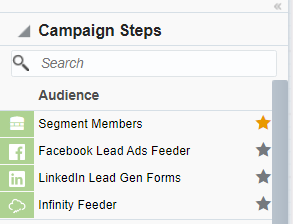 The drag-and-drop option allows us to create a multi-step campaign very easily. Here is an example of one simple email campaign where we send an email to 150K users and then we wait for 3 days. After 3 days if they haven't opened an email we send them another follow-up email.
There are so many possibilities to create an advanced multi-step campaign. I'm sharing a few useful scenarios that you can implement to engage users with your brand so you can achieve your target.
When you go with Eloqua for the first time and if you have a large audience with you ready to send an email– Eloqua consultant will suggest you go with the IP Warming email campaign which is the first step of sending Emails from Eloqua. That email campaign will be in smaller batches and this will allow ISPs (Gmail, Yahoo, Outlook) to understand that this IP is used by the specific brand to send emails, through this the IP reputation will start to improve.
In the below campaign our aim is to get more form submissions. In the event that the form has not been submitted within three days, we send a reminder email to the users.
In the following email campaign, we send unique emails based on user interest, and if users have not clicked on a link in 3 days, we send them a reminder. The multi-Step campaign can be further customized to send SMS, Whatsapp Notifications, or Web Notification depending on if you have those options available on Eloqua.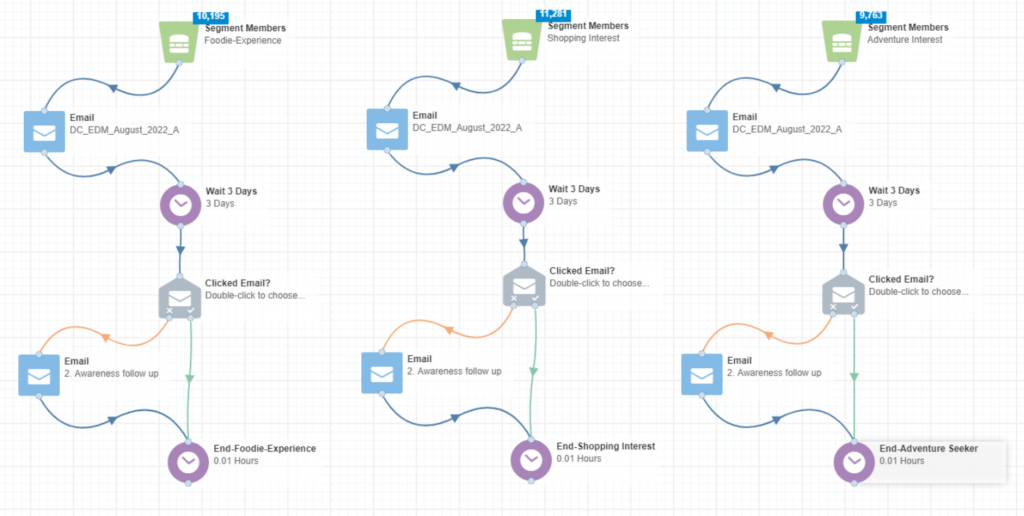 In the instance that we've got, we've below shown the decision points available.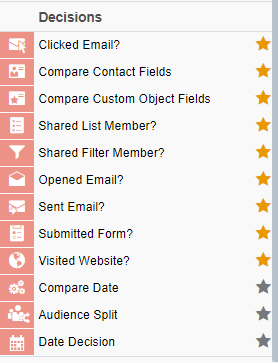 Depending on your use case there are many possibilities for Email Campaigns on Eloqua. Eloqua also tracks the website visitors which allows you to segment the users. For example, send an email to a list of users who have visited a specific product page and haven't purchased it. What you should pay more attention to is enriching your data. You need to transfer the information correctly. The better your data, the better you can create segments and email campaigns.
In the next post, we'll see more about the Form and Form Submission – Post Processing Steps!